A FACE Conformance First and First and First, FACE Technical Standard v3.0
Tucson Embedded Systems, Inc. (TES) with Integrated Product Team (IPT) partner Textron Systems obtained FACE Conformance Certificate (#15644205, dated 29 July 2019) [ https://facesoftware.org/browse/search_results], for Textron Collision Detection Portable Component Segment (PCS) software product to FACE Technical Standard Version v3.0.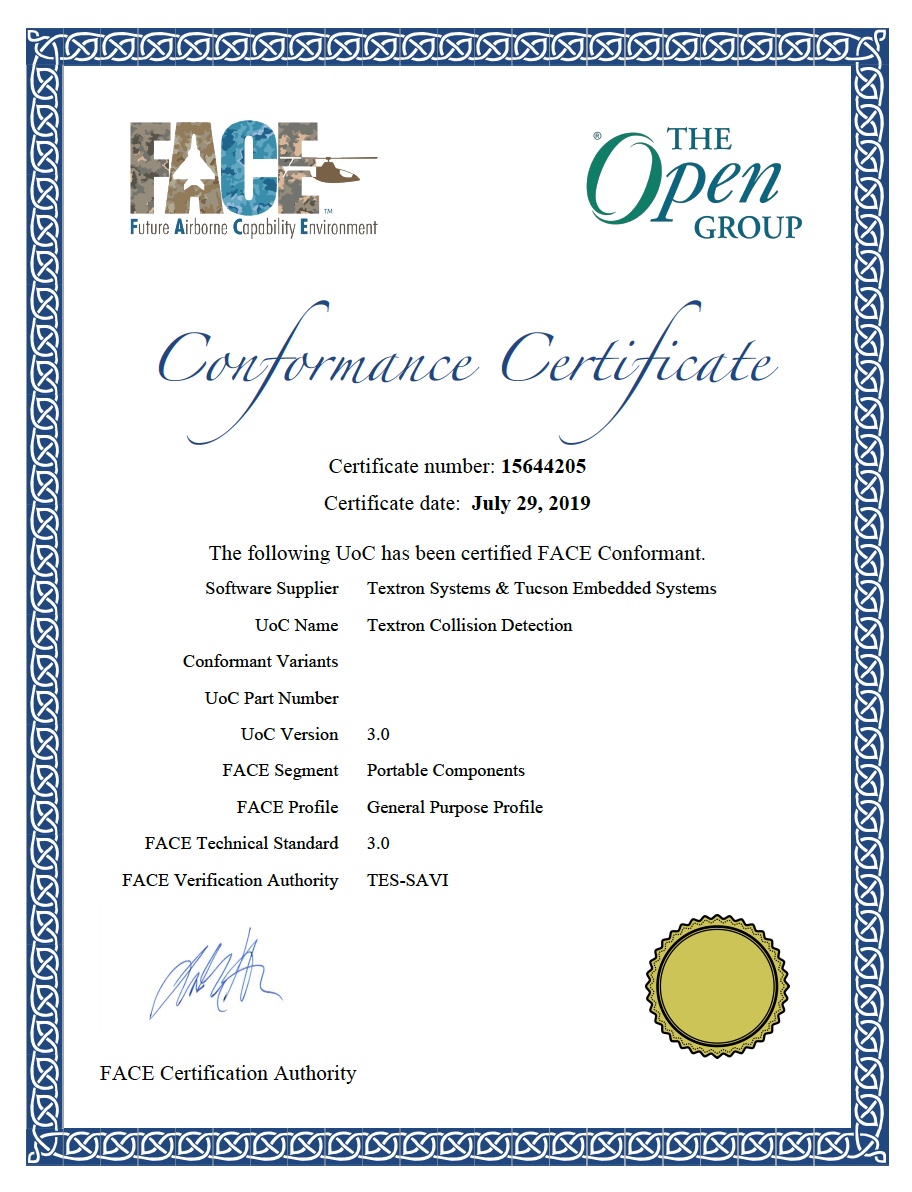 This is 
The first Portable Component conformed to the new FACE Technical Standard version v3.0; and 
The first Consortium product to be submitted and Conformed by multiple Software Suppliers. TES actually worked with the FACE Steering Committee and with FACE Conformance Authority to change the manner who Software Supplier's can develop and Conform FACE software products, and
The first time TES and Textron collaborated and used TES-SAVi's AWESUM(R) model-based product line tool suite to develop Conformant FACE data models, FACE Software, and FACE lifecycle documentation and achieve FACE Conformance to the v3.0 Standard – industry-wide.
TES continues to help forge forward and lead The Open Group™s FACE Consortium toward the future for open systems products and architectures designed by multiple organizations for reuse across systems-of-systems aviation market spaces.  
For more about TES and FACE — TES provides Development Services for FACE products [ https://tes-savi.com/services/aviation-engineering-services-for-airworthy-qualification-effort/ ], provides FACE Ecosystem Tools for commercial markets [ https://tes-savi.com/awesum-product-suite/ ] – see technical paper FACE™ Ecosystem – Model-based Tools designed for the FACE Technical Standard v3.0 & v2.1 — Three Use Cases using the TES-SAVi AWESUM® Product Line model-based tool suite" to be published and presented at FACE Air Force TIM; and with TES-SAVi FACE Verification Authority, has ability to perform FACE Verification products [  https://tes-savi.com/services/face-verification-authority/ ].
Come visit us at FACE Air Force TIM, 17 September 2019, at Dayton Convention Center (DCC) where we'll demonstrate development and FACE eco-system tooling capabilities, and can plan-out help so you can also ACHIEVE FACE CONFORMANCE with your products.